Girls' DA ID Camp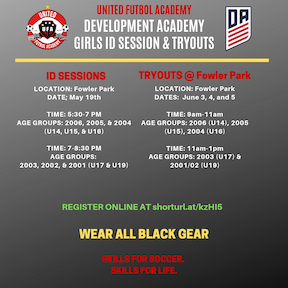 UFA will start the identification process for the Girls' Developmental Academy program for the
Fall 2019-Spring 2020 season with an ID Camp. Current Developmental Academy, NPL, SCCL,
or Athena A players are invited to attend.
Where: Fowler Park
Address: 4110 Carolene Way, Cumming, GA 30040
Date/Ages/Times:
Sunday, May 19th, 2019
U14-U16: 2006s / 2005s & 2004s - 5:30 to 7:00 p.m.
U17 & U19: 2003s, 2002s & 2001s - 7:00 to 8:30 p.m.
Please arrive 15 minutes early for check in.
What to Wear: Players must wear all BLACK gear.